I first met Vivyan online in 2000 on a dating site. I wrote about that first contact in the Post,
'The Voice Of The Silence'
. But yesterday was the first time I ever actually met her.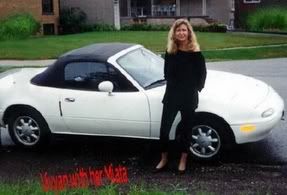 I took a bus from Kitchener to Etobicoke and Vivyan's partner, Dorian picked me up from the terminal in their white Miata. The Miata is my dream car but this is the first time I ever rode in one. Vivyan and I agree that the ideal color to own is candy apple red though.
When I stepped in the door and looked at Vivyan for the first time in person, I found it difficult to get used to hearing her voice and seeing her at the same time. She actually looked very different in person but I don't know why. But as I looked at her and she continued to talk, I found that the image I had in my mind began to meld with the person I was looking at, until my inner picture of her, and the one I saw in front of me, fell into sync. We gave each other a warm hug. We sat down in the living room and drank some very nice wine (Rosemount Estate, Shiraz Cabernet) and had a wonderful talk. The living room is decorated with Dorian's paintings and is very inviting. Dorian and I hit it off right away but I was especially relieved to find that I enjoyed being with Vivyan as much in person as when we talked online. Internet friends are like pen pals. Sometimes the magic is lost when you meet in person.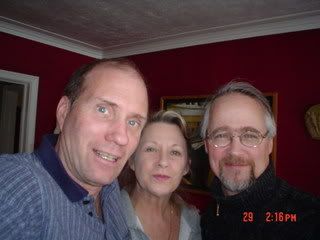 The three of us headed off in the afternoon for a long walk (to get more wine) and we stopped in at their favorite Bistro for some thin crust pizza. Joe, our waiter, sees them a lot and was very happy to see us, and we talked with him about how I was meeting Vivyan and Dorian for the first time and he asked for my Blog address so he see it. Joe gave us complimentary drinks before we left.
When we got back home, we settled down to a movie I brought with me;
'Contact'
, starring Jodi Foster and written by Carl Sagan. This movie's premise is: what might happen if we actually received a message from an extra terrestrial Intelligence. For me, it's a movie about healing and finding what really matters. There is a scene near the end where Jodi Foster is in a beautiful world where she makes contact with a mysterious, yet familiar higher Being. I love this scene for two reasons; first, because I have seen a place just like this when I've done lucid dreaming.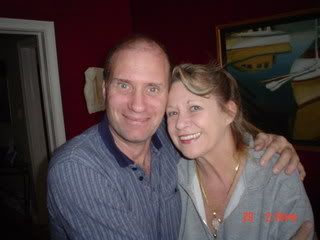 This world of wonderful blue oceans and vibrant beaches is on the Astral Plane, which is just above the physical world. It's a place that many people mistake for Heaven because it is so beautiful. But the best thing about this scene is when the entity talks to Foster about the people of Earth:
"You feel so lost, so cut off, so alone, only you're not. See, in all our searching, the only thing we've found that makes the emptiness bearable is each other."
As I travel in Ontario, or Thailand, or in my dreams, that is what I find I am really searching for; other Souls to connect with; Souls who remember each other when they meet. That is what I feel when I am with Vivyan and Dorian. I am meeting old friends for the first time.