I have been visiting with a woman I contacted on the Internet almost four years ago but only met for the first time yesterday. Today I talked with Vivyan and her partner, Dorian, about where they came from and how they met. Vivyan Ackroyd is from a prominent Toronto Family.
Her great great Grandfather was Joseph Sheard, the former Mayer of Toronto. Sheard was an architect who became well know for refusing to build a gallows for some men who were hanged during the Fenian rebellion of 1840. He said:
"I'll not put a hand to it, Lount and Matthews have done nothing that I might not have done myself and I'll never help to build a gallows to hang them".

He risked the gallows himself for refusing, but later became a hero for his courage to speak out for what he believed in. Vivyan's Father was John Wesley 'Big Jack' Ackroyd, who was Toronto's Chief of Police from 1980 to 1984.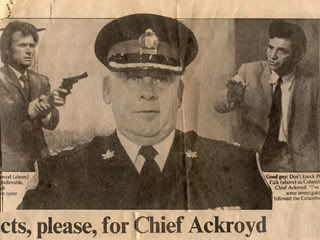 The picture you see here was taken in 1988 with Vivyan sitting in her father's lap. In June, 1981 Chief Ackroyd was featured in an article by Clyde Gilmour in the Toronto Star:
"Just the facts, please, for Chief Ackroyd". This is a part of that page from the paper.
(Since I'm always talking about synchronicity, I should mention that Clyde Gilmour grew up in a house directly across from the home I lived in in Medicine Hat.)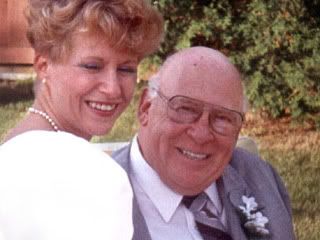 I mentioned another famous member of Vivyan's family in yesterday's Post; Dr William (Uncle Bill) Tiller, Professor Emeritus at Stanford University. Dr Tiller is one of the scientists featured in the movie:
'What The Bleep Do We Know'
.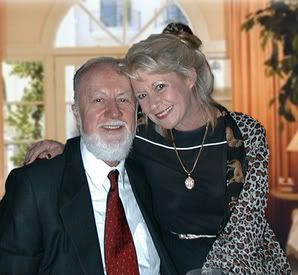 Vivyan has lived in Toronto most of her life. She is dynamic, energetic woman with a contagious optimism. She worked at Ontario Hydro until she was diagnosed with Cancer of the jaw and the sinus cavity, and her Back, in 1998. Her husband left her on Christmas Day when he decided he wouldn't be able to handle the stress of dealing with her cancer. She had to deal with it all alone. She had a piece of her tailbone removed and transplanted into her jaw to rebuild the areas effected by the cancer. It has now been five years as of February, and she has been declared cancer free. Vivyan has written her thesis now. It's title is 'The Future Odyssey'. Her dissertation is 900 pages long. Her time away from her job gave her time to work on the paper and is looking forward to at Ontario Hydro. I am very excited to have connected with her right now just before I leave on my trip. I'm sure that she will have many insights to share as my journey continues. I'm honored to count her among my friends.