My sleep patterns are messed up from the travelling. I had a siesta this afternoon and almost had a full night's sleep by mistake. I create my own world here in Bangkok by making a task list and then going on mini adventures to complete the tasks. One of those tasks was to start looking for a suit. My buddy Ted, in Calgary, bought a couple of silk suits in Thailand that were a great price. I met 'Sunny' who helped me out.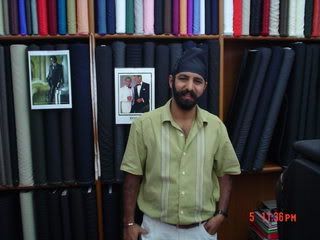 He offered me a suit made from
Italian
cashmere with two cotton shirts for 5000 baht. ($160) I liked him and I think he would do a good job for me but Ted suggests I go north to
Chiang
Mai and look at the silk suits.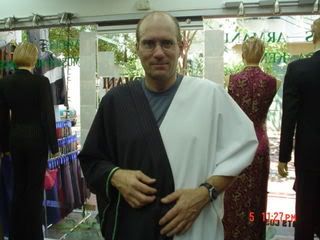 I saw some kimonos that I thought were very nice too. They are selling for 1800b ($60) Is that a good price?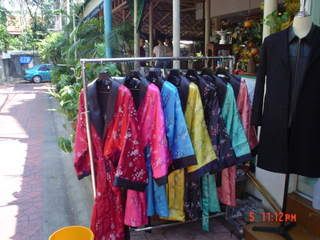 The clothes are generally very cheap when it comes to shirts blouses and dresses. I thought some of these were pretty. They cost about 150b ($5).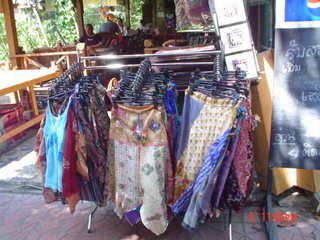 Task 2. Book an Elephant Trek. I went to a travel agent and booked a trip Ted recommended. It takes me K
anchanaburi
, where the Bridge on the River
Kwai
was built. It's a 3 day adventure including an elephant trek, a ride on the infamous railway, some rafting, and all the travel and
accommodation
for 1500b ($60) It's cheaper to go on this trek than to stay where I am.
As for tomorrow, I'm thinking of doing the
Tatanakosin
Temples and River Walking Tour that is outlined in my 'Lonely Planet' Book. I would just take a cab to '
Tha
Tien
and start from there.