So, I'm just back this minute from my dinner with
Sanga
. When we last left our hero he was taking the break neck tour of Bangkok, led by his faithful
tuk-tuk
driver, Joe. I got back to my hotel at 2:40. I immediately came here to the
Internet
cafe and started downloading the eighty pictures I took since 9am this morning. I finished my last post just after 4:30. I then found a Thai speaking man to help me make a phone call to
Sanga
.
Sanga
arranged with my friend here to write down the directions to the
Phon
Pier. I was told to pay only 30 baht. I found a driver and headed off. Only, this driver said he would only do the trip for 30 baht if we could make a stop. So there we were heading the wrong direction so he could take me to a TAT; a tourist place to try to sell me tickets somewhere. We arrived there and I told the proprietor I wasn't interested. So now the price was 80 baht. I finally agreed to pay 40 if he got me there fast! And he did. So now I'm hoping
Sanga
is still there, and he is. We got a couple of drinks (I had Thai Ice Tea- no alcohol) and we sat and talked by the river.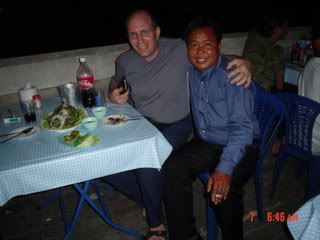 I told
Sanga
my
dilemma
about Armani so he went with me there and I negotiated a new deal for 16000 baht for One Blue suit and two pairs of pants, 3 shirts and 3 ties. I go back on Friday for the second fitting. So now I treated
Sanga
to dinner at a sidewalk cafe. (290 baht)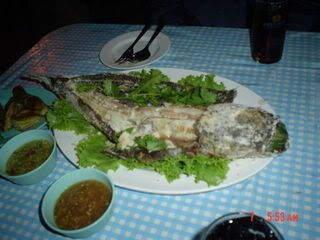 He ordered a fish called '
Plachon
' (if it translates into something horrible, maybe don't tell me...vivyan...)
Sanga
offered to help me find travel arrangements for
Chiang
Mai when I get back from
Kanchanaburi
on Thursday. He also offered to let me stay at his place when I'm here.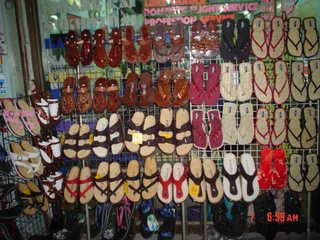 We took a taxi back and here I am safe and sound and one Armani suit richer for my troubles. Now I'm going to get some rest so I can take off for the Bridge On The River
Kwai
Trek tomorrow. Oh, and Sarah, I saw another display of flip flops. see anything you like?